Workshop date: October, 25 2020
Abstract notification: October, 18 2020
Abstract deadline: October, 11 2020
Youtube livestream
Important links
Spatialchat and Zoom links will be posted behind this password secured link.
Please do not publicly share the password to avoid malicious disruptions.
The livestream YouTube site will be posted morning of October, 25.

Registration for Zoom and Spatialchat password

You only need to register if you did not receive an email with Zoom/Spatialchat password.
We will email password after filling out registration form within 24 hours
If you did not receieve a username/password from the form you can directly email ngravish@ucsd.edu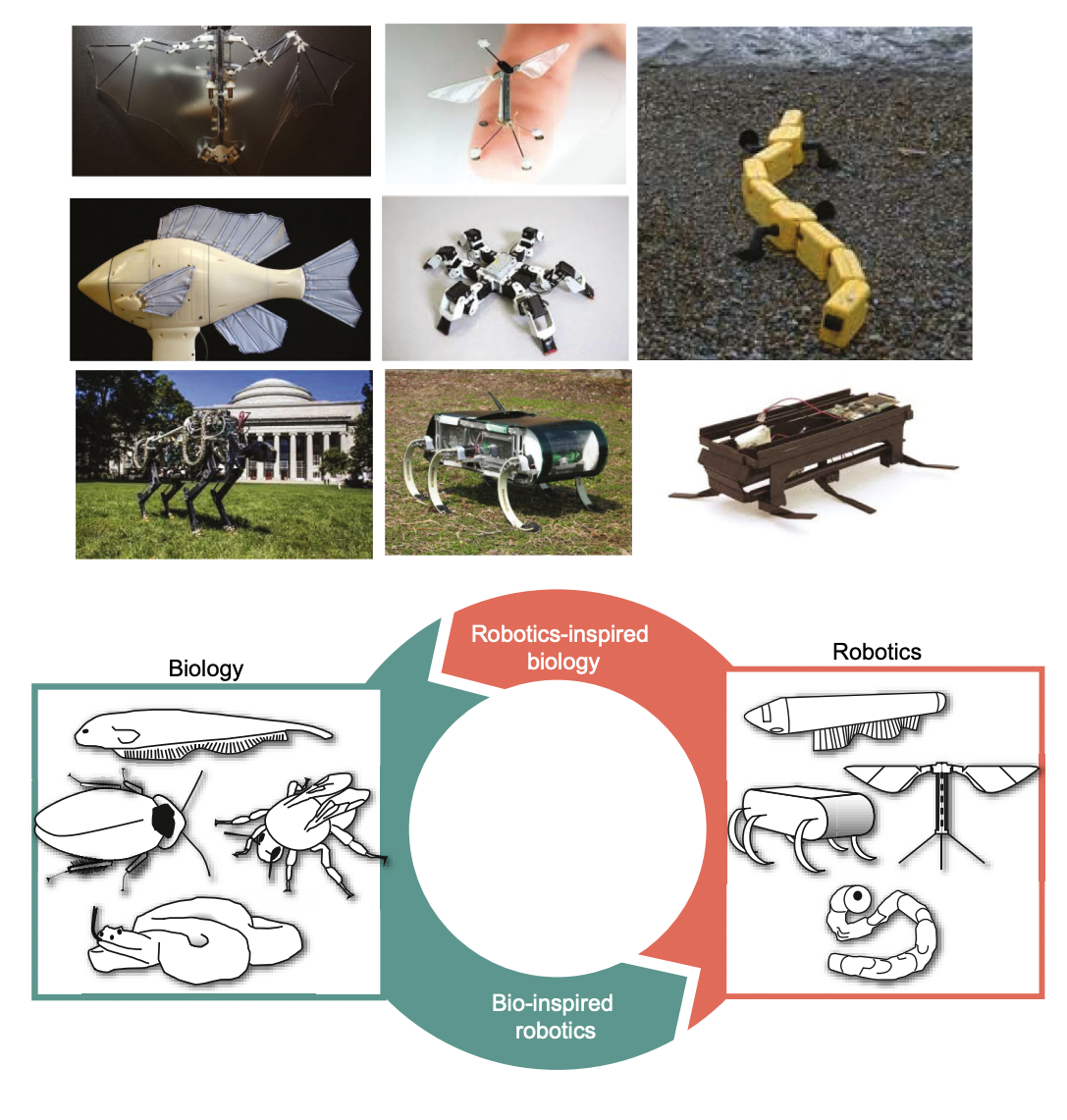 Overview
Advances in robot design, actuation, and control have benefitted from biological inspiration. Furthermore, many scientists interested in understanding how animals move are turning to robots to test hypotheses. The goal of this workshop is to facilitate interactions between these two communities: bio-inspired roboticists and robotics-inspired biologists.
This is a virtual workshop that will consist of:
Pre-recorded video talks hosted on the IROS On-Demand website.
1-day virtual workshop with live talks, panel discussion, and poster session.
Workshop schedule (all times Pacific Standard Time)
8:00
Welcome, overview, and agenda (Conference organizers)
8:30

Soft robots and the selective pressures driving snake behavioral evolution

Talia Moore (University of Michigan)

Website
9:00

Bioinspired Robotics and Missing Links

Brooke Flammang (New Jersey Institute of Technology)

Website
9:30

Using Biorobots to Investigate Extant and Extinct Animal Locomotion

Website
10:00

Decoding locomotor control priorities for running in birds and robots

Website
10:30
Panel discussion
11:30
Lightning talks from poster session 1

Biomimetic soft robot to study the integration of emitter and receiver dynamics in bat biosonar, Shuxin Zhang, Rolf Muller
Robot navigation around oncoming movers using bio-inspired opinion dynamics Charlotte Cathcart, Shinkyu Park, Anastasia Bizyaeva, Naomi Ehrich Leonard
Flow-Mediated Olfactory Communication in Honey Bee Swarms, Dieu My T. Nguyen, Michael L. Iuzzolino, Aaron Mankel, Katarzyna Bozek, Greg J. Stephens, and Orit Peleg
Sink before you swim: Computational model errors reveal the effect of fish behavior and morphology on kinematics, Jonathan Arreguit, Emily Standen, Auke Ijspeert, and Cassandra Donatelli
Bio-inspired robotics and robotics-inspired biology: Understanding the evolution of biomechanics in climbing locomotion of lizards, J. T. Schultz, H. K. Beck, T. Proost, T. Haagensen, C. J. Clemente

12:00
Poster session 1
1:30
Lightning talks from poster session 2

Multi-component terrain navigation facilitated by passive deformation in a novel snake robophysical model, Marine C. Maisonneuve, Perrin E. Schiebel, Kelimar Diaz, Daniel I. Goldman
Pterobots: Sea Butterflies as Soft Robot Models, Ferhat Karakas, Ali Al Dasouqi, Amy E. Maas and David W. Murphy
Wing-leg coordination facilates strenuous ground self-righting, Qihan Xuan, Chen Li
Streamlining in fire ants rafts, Hungtang Ko, Ting-Ying Yu, David L. Hu
Tunabot Flex: a tuna-inspired robot with body flexibility improves high- performance swimming, Carl H. White, George V. Lauder, Hilary Bart-Smith

2:00
Poster session 2
3:30
Workshop ends